Service Agreement
Protect your HVAC equipment by investing in Home Comfort Air Services Agreement Plans. You will have 24/7 priority emergency service. We offer Gold and Silver Plans. We have flexible monthly or annual payment plans. Our Gold plan is the premium and the Silver plan is the second best option you can have.
Your benefits:
24/7 priority emergency service
Twice a year maintenance/ one for heating and one for cooling season
Waive service call fees
Transferability (upon selling your house your policy can be transferred)
Increases the life of the HVAC equipment
Your HVAC equipment lasts longer
Discount on repair for Silver Plan
Easy payment plan monthly or annual
Your equipment service history will be recorded
Certified technicians
On time, in uniform, and ready to get your equipment up and running
Peace of mind
Our Service Plan:
Gold
Our Gold service plan covers most parts and labor charge of your covered equipment. In addition you will have one free air conditioning maintenance and one heating tune up.
Silver
Silver policy gives you free annual inspections for your air conditioning and heating unit, one for each. It also gives you 10% off on parts and labor charge. The service call fees are waived as well.
Accessory
If you have accessories like humidifier, condensate pump, electronic air cleaner, zone control electronic dampers we can include them in the policy with small additional charge.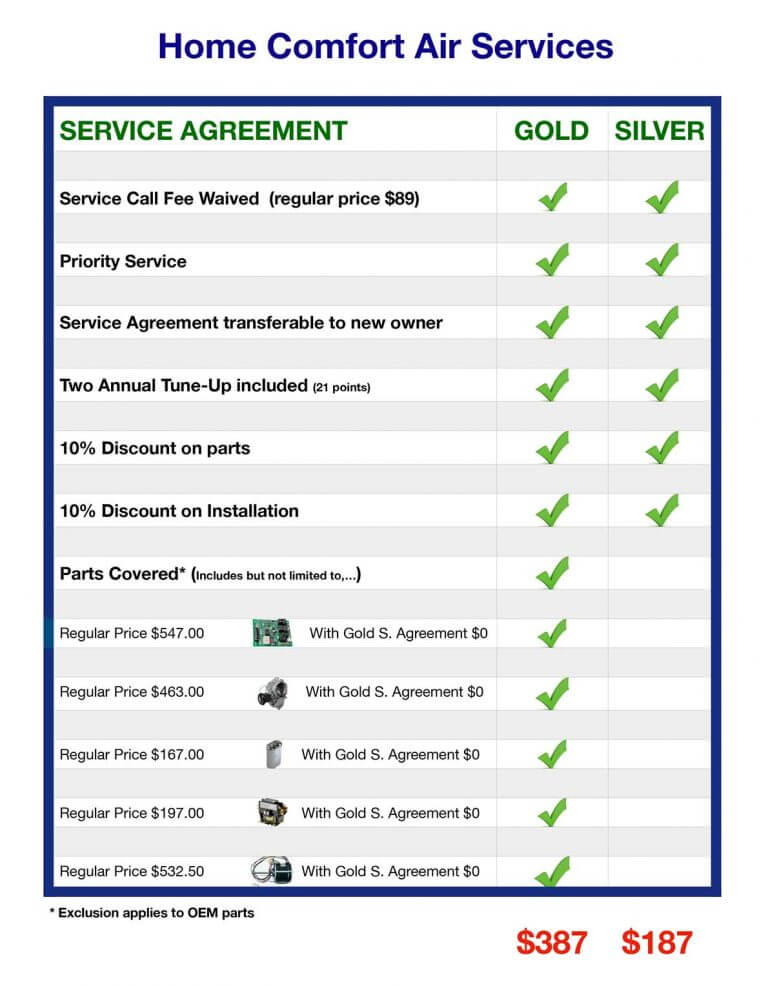 Contact us 24 hours a day, 7 days a week to request emergency HVAC services. We proudly serve Silver Spring, Maryland, including Riverdale and Washington, DC.